The Anti-Inflammatory That Reigns King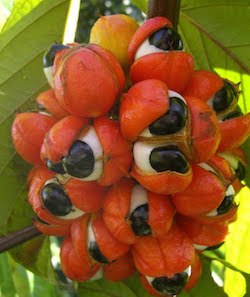 Most people know that their morning cup of joe can do more than simply provide a daily jolt. After all, the caffeine and other properties therein have been widely used in cosmetics and healing services. There is, however, another anti-inflammatory ingredient on the map that's capable of incredible things too. Here's a peek at the nitty gritty of this plant-based extract that's making waves.
WHAT IT IS
Paullinia cupana, native to the Amazon basin, is sometimes referred to as guarana. Remember the java we were talking about? Well, this superstar is identical to coffee in its chemical structure. It's high in antioxidant and astringent properties, as well as highly stimulating due to the powerful caffeine punch it packs. And how much caffeine is that, exactly? Its levels are double what's found in coffee beans.
Paullinia cupana extracts have been used throughout history as stimulants, aphrodisiacs and tonics. They are comprised of polyphenols (which provide antioxidants), methylxanthines (caffeine, theophylline and theobromin), and saponins (derived plants and provide protection and promote the absorption of nutrients), in addition to small amounts of other compounds.
HOW IT WORKS
This highly caffeinated ingredient works as a defensive toxin that cleanses the body from the inside out. In the world of skin care guarana is most noted for its toning, astringent, and antibacterial properties, as well as its ability to stimulate tired skin and deliver antioxidants.
Since it's chemically identical to caffeine, it can be used to banish puffiness (great for those unintentional long nights) and smooth out the appearance of skin. It increases blood flow and the lipolytic effect by blocking enzymes and lessening triglyceride breakage. So what does that mean in plain English? Basically, it serves up a powerhouse of benefits for your skin.
So now your body isn't the only thing that can benefit from that daily dose of invigorating caffeine. Give your skin the pick-me-up it needs and keep bacteria away in the process.
Find guarana (paullinia cupana) in the RA for Men Shave Gel.