Skin care upgrade – What your skin is craving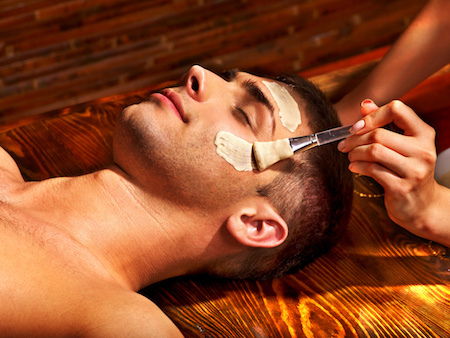 Now that the first month of 2017 is already behind us, our New Year's resolutions have either become habits or they've fallen by the wayside. Which side of that equation do you fall on? For many of us it's the latter. But hey, good news: there is always the opportunity to begin again!
If you resolved to make 2017 the year of great skin but still feel a little lost as to how to accomplish that, we've got you covered. Your guide to great looks begins here.
We've discussed skin care 101 extensively, so it goes without saying that the five axioms of skin care always apply: cleanse, exfoliate, tone, rebuild, protect. While these five skin laws provide the foundation of great skin care, there are ways to take it up a notch to address specific issues such as aging, excessive dryness or irritation.
There's no better way to take your skin care to the next level than enlisting the help of a professional. Don't be afraid of the spa. Professional treatments are not just for the ladies. Our skin needs may be different, but that's the beauty of going to a pro ––they understand that we've got unique needs and that we still want to feel manly even when we're undergoing a little rejuvenation.
With that in mind, here are three spa treatments worth considering:
• The Express – the Express Facial is a great way to ease into getting professional treatments, or if you simply don't have a lot of time on your hands. In half the time it takes to sit down for lunch, you can detoxify, regenerate and recharge your skin. This treatment incorporates a good cleanse, gentle, tingling enzymes, and soothing hydration. Your skin is left feeling refreshed and smooth. Not bad for 30 minutes.
• Gentleman's Facial – if you're ready to progress to the next level, or you simply want deeper relaxation (hey, we all need to destress), the soothing, yet corrective Gentleman's Facial could be your answer. In addition to the enzyme for regeneration, the treatment also uses a cacti and clay mud mask to detoxify the skin. It also addresses the eyes and overall skin strength with a firming eye formula, and hydrating serum. To restore and rebuild the skin, a mineral-infused serum and "freezing" peptide is worked into the skin. You'll leave with refreshed, hydrated and firmed skin.
• Sake Peel – fine lines and wrinkles will creep up on all of us sooner or later. The Sake Peel, which incorporates an enzyme to kick start the cellular regeneration, also uses sake to further rejuvenate and firm the skin, fight free-radical damage (the culprits behind skin aging) and reduce the overall appearance of aging. This one will require some additional post-care, but within seven days, you will see noticeable changes in the skin.
Getting professional treatments need not be a weekly occurrence. Since they provide lasting effects, you only need to do them approximately every three months to see vast improvement in your complexion. Talk to your skincare professional for guidance. They'll best be able to map out a course of action for your depending on your goals. So if you're ready up your game, check out the man-centric spas in your neighborhood here:http://www.ramethod.com/locations.html
Here's to great skin, and no excuses, in 2017!