How to Care for your Skin like this Denver Bronco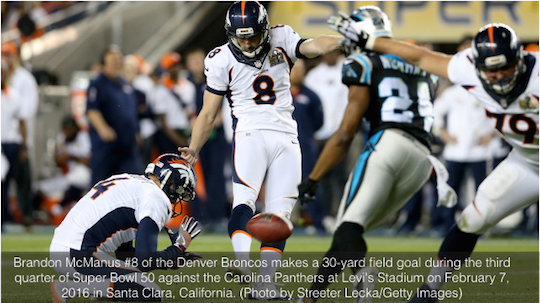 Earlier this month, we all reveled as the Denver Broncos defense took the team to Super Bowl victory. Indeed, they were dialed in the entire game. And while their defense was credited for getting the team to world championship, the entire team has plenty to celebrate.
And one Bronco, aside from Peyton Manning, had a particularly stellar year. If you follow football, you've heard about Brandon McManus. Despite a rough 2014, this past season he was widely hailed as a comeback kid.
Standing tall at 6'3" with a 201-pound frame, McManus has a strong, lean build to envy. And if you actually take a moment to look at his face, you'll notice the manly (yet carefully maintained) facial hair that defines a shockingly clear complexion. Maybe you won't get the chance to make over 85 percent of your attempted field goals in the NFL like McManus did this year, but you can surely take some steps to get similarly winning skin.
If that is one of your goals, here are a few of our best guesses at what this rising star might use in his skincare regimen.
GET RID OF THE GRIT
Whether you're a football player, a student or a corporate executive, your face bears the brunt of environmental debris. To keep acne, aging, and other issues at bay, cleansing is imperative. While McManus needs grit on the field, he's likely not wearing it home. In his case, a cleanser with raw actives, and salicylic and L-lactic acids will energize the skin and go deep into the pores to keep the skin purified.
ARMOR AND PROTECT
As someone whose career is largely spent outdoors, McManus' face looks practically free from sun damage and wrinkles. We'd presume that he's extremely careful about using sunscreen daily. Seek out one that includes zinc oxide and antioxidants for a one-two punch that will control free-radical damage and shield your skin from risky environmental factors.
MAINTAIN THE MUSTACHE
Great skin and suave, meticulously groomed facial hair doesn't happen by accident. McManus puts care into it. Of course there are some tools to make the effort a little easier. A good shave oil with antioxidants, and anti-inflammatory and antibacterial support will help prevents razor bumps while also strengthening the skin.
GO DEEPER
Last, but not least, someone like McManus who has risen out of the ashes of a less-than-stellar prior season understands the power of giving something your all. While football requires this to a maximum degree, attaining clear skin also needs extra work that goes further than merely covering the daily basics.
In order to strengthen and hydrate skin beyond the status quo, McManus probably incorporates a renewing mud mask into his weekly routine. By exfoliating away dead and damaged skin cells, such a mask can reveal smoother, more vibrant and fortified skin – which is exactly how we'd describe McManus' skin.
As Denver Broncos GM John Elway said, McManus' success lies largely in his "consistency." And that is the key – consistency in cleansing, strengthening and protecting your skin. Take a page out of McManus' book – practice consistency and no matter where you are with your skin, you too can be "the comeback kid" of great skin.