How to Care for Your Skin in a Jiffy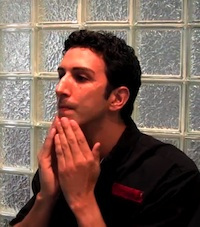 Is it just me or are we all moving faster? Pressures in the day to day just to stay caught up, and it isn't slowing down. Between the to-do lists, work, meetings, workouts and trying to maintain somewhat of a social life, it leaves little time for…well…ourselves.
Unfortunately our skin tends to suffer when we don't take care of it and we actually look like we may be feeling (chaotic??). But the good news is, it doesn't take long guys. With just a few daily actions and a quick visit to the spa for an express man facial, we can prevent some long-term damage. All you have to remember is 1-2-3.
Dirty Skin? Clean it up
Yes, I borrowed that gem from Orbitz gum. But it's a valid point and many of us don't realize how much "gunk" builds up on the skin throughout the day. The "gunk" I'm referring to is oil, dead skin and debris from environmental elements. The culprits include sweat, natural cell turnover and pollution (particularly if you live in a congested city). These all are major causes of acne and aging. A good cleanser with salicylic acid will help keep skin clean and acne-prone skin in check. For even quicker clean-ups turn to cleansing pads.
Build it up
This may sound like a long, highly involved process, but it's actually really quick with the help of a skin-building toner. Be sure to find one with peptides, sodium hyaluronate and stone extract to strengthen and hydrate the skin. This will replenish the skin with the necessary antioxidants and proteins it needs for cell regeneration.
Protect it
You didn't just build it up, just to let it down, so protect it! The sun causes 90 percent of our skin's aging. Use a good daytime protection formula with a mineral blocker like zinc to protect against toxins and pollutants. Zinc acts as a natural barrier between your skin and the sun's rays. Use it every day!
Spa it up
You might be thinking, "If I'm strapped for time, I don't have time for the spa." Well several spas are offering 30-minute express facials just for us men on the go. While it's quick, it's enough time to make some serious corrections to dry, tired, and congested skin. See who is offering these RA for Men's Express in your area.
See, a busy schedule is no excuse not to take care of your skin. Just remember 1-2-3. To view the 1,2,3 in action click here.