How Shaving Builds the Father/Son Bond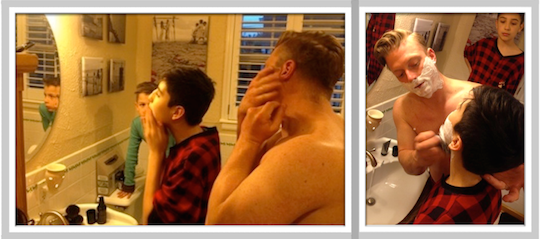 It ranks up there with fishing, throwing a ball, building a pinewood derby car or rocket ship - shaving is one of those skills a father gets to pass along to his son. It's one of the few educational life experiences that bond father and son.
Us dudes don't much care to sit and discuss feelings, so these experiences are an opportunity to open natural dialogs while we enjoy a nice shave, cast a fishing line or apply pinstripes to the derby car. Shaving in particular also represents an important milestone - it's like our passage into manhood.
Shaving has been called a lost art (or tradition), but in recent years it's been making its renaissance. The badger brush, foaming shave gel, shave oil, double-edge razor and a warm towel...could there be anything better? We don't think so. Recently we received these photos and the below message from a father who shared in the joy of shaving with his son. It reminded us why we do what we do.
"I just wanted to say thank you for such an amazing experience I had recently with my son. Due to the informative information on your website and my esthetician, I was able to use great products as well as have instructions on proper shaving methods and techniques to teach and pass down to my 14 year old in order to have a wonderful shaving experience. I am looking forward to teaching my 13 year old soon and my 8 year old in a few years. I feel this is an experience they will share and pass down to their children and cherish forever." ~ Andy Resener
Thank you for sharing Andy! Here's to many happy years of shaving.