Guardians of the Complexion: The secret ingredient to Star-Lord worthy skin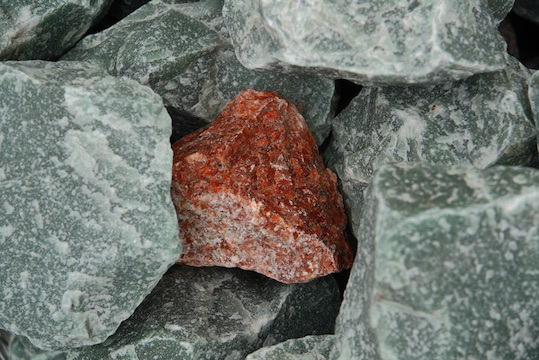 Fighting space monsters and protecting an entire galactic universe is all in a day's work for Peter Quill. And yet, he still manages to maintain a rugged handsomeness most of us can only aspire to. Of course being part superhero, part celestial being likely contributes to his perfect skin, but there's still plenty we can learn from him.
One thing we know about superheroes is nearly all of them have a secret weapon, whether it's their suit, a shield, a unique power, or superhuman brute strength. Don't feel bad if any of those feel out of your mortal reach – you can still harness the power of your own skin's regenerating abilities. How, you ask? Hematite!
WHAT IS IT?
Hematite is commonly used in the healing arts, and is thought to balance energy and support emotional health. It is an iron oxide that can be found in stone or crystal form and has a black iridescent surface. Often worn or carried in a pocket, its lore includes protection from injury during battles, assistance in regulating blood flow, and pain relief. When incorporated into skin care, many of hematite extract's potent healing properties actually carry over. (It's been noted, hematite has also been found on Mars, so you know it must possess superpowers.)
WHAT DOES IT DO?
One of the main properties of hematite is its ability to stimulate the regeneration of skin cells. It supports circulation and blood flow, and thus helps speed wound healing. Studies have shown hematite extract to significantly increase production of Type I collagen, which helps restore skin density and reestablish firmness from within. What could make you feel more superhuman than that?
HOW TO HARNESS IT
Fortunately, you don't have to build your own Milano and travel through space to reap the benefits of hematite. In fact, you needn't look beyond your medicine cabinet.
Some skincare formulas are utilizing the powers of hematite to strengthen and firm the skin. Look to one that combines the ingredient with a peptide complex and vitamin C as this will further help guard against the signs of aging and freeze wrinkles. The peptides act as a signal to damaged cells and trigger protein production to help heal the skin and repair its youthful structure. The hematite extract delivers on its promise to boost skin's resiliency and collagen production.
You may not be a superhero, but with a little secret weapon in your back pocket (or your medicine cabinet) you can look as good as one.