Does Aloe Hold the Key to Healthy Skin?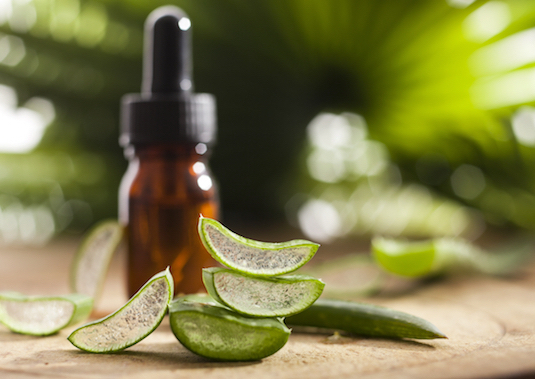 Did you know aloe can do way more than treat sunburn? While that's certainly one of its most well-known uses, aloe barbadensis leaf juice (the gel from an aloe vera plant) offers myriad other benefits for the skin.
In fact, this cactus-like plant is one of nature's powerhouse healers, and it's starting to catch on. People are now seeking it out in juice form to restore alkalinity in their body, rehydrate and maintain healthy liver function, among other benefits. As it relates to the skin, however, this time of year ––the transition from the cold, harsh winter into hot, humid summer –– is a great time to think about adding products that wield the magic of aloe to your skincare routine.
WHAT MAKES ALOE SO SPECIAL?
The aloe vera plant, which is a member of the lily family, is a succulent that closely resembles a cactus and tends to thrive in warm, dry climates. What many of us are familiar with is aloe vera gel, a clear, thin, jelly-like substance that is produced from the pulp from the leaves of the plant.
Aloe is great for soothing skin irritations as it has fantastic anti-inflammatory properties, and it can aid in healing cuts, burns, scrapes and insect bites. Beyond that it helps improve skin hydration and accelerates the turnover of collagen.
WHERE TO FIND IT
Due to its versatility and many benefits, aloe can be found in a variety of high-quality skincare products. Think beyond just the sun protection aisle. Aloe has become a powerful addition to other products like toners, rejuvenation formulas, and firming complexes. It's worth noting, the quality of aloe used along with the quality of ingredients it's paired with make a difference.
Since this ingredient delivers soothing, calming and anti-inflammatory benefits, using a toner containing aloe after cleansing and shaving helps prevent razor bumps, skin irritation and dehydration. Aloe also aids in wound healing, which in addition to helping repair burned skin, it's also a great ingredient for skin challenged by acne. In correctivesand skin-building products, aloe works in tandem with ingredients like peptides, retinols, and tocopherols to support with cellular regeneration, hydration and healing.
Don't just limit aloe to your post-sun skincare routine. This powerful and versatile ingredient offers much more than just soothing relief.