Banishing Lines…Around the Eyes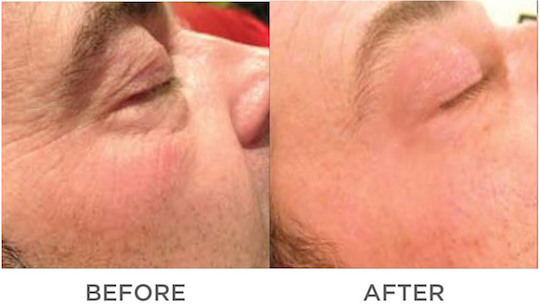 It's been said that eyes are the window to the soul. But the feature that should be our most appealing one can instead quickly turn into a glaring signal that we, too, are aging. It's something no man wants to think about, but as we grow older, wrinkles and dark circles become harder to ignore.
While a few lines can give our faces some masculine character, too many can make us look far older than we are – far too soon. How can you keep skin around the eyes smooth and avoid the proverbial raccoon look?
SMOOTH SKIN IS IN THE DETAILS
When we're looking for a product or procedure to change something about our appearance, we usually look for a quick fix. We want a cure-all that will work immediately and last forever. But as with most things that sound good to be true, that sort of solution is neither realistic nor attainable. Especially when it comes to the fragile skin around your eyes, it's important to tread carefully and be patient.
The best way to do this is by finding the right products. Look for ones that firm the eyes and contain certain powerhouse ingredients. First up? Perhaps the king of all components that can give your peepers youthful are peptides. One tri-peptide (scientific name: dipeptide diaminobutyroyl benzylamide diacete), that actually mimics viper venom, inhibits the muscles that form lines and wrinkles. Another is a tetrapeptide (acetyl tetrapeptide), which works to reduce puffy eyes.
Chrysin, another ingredient to look for, is a botanical compound that reduces inflammation, conditions skin and works as an antioxidant. When used alongside other ingredients (or in conjunction with peptides in particular), chrysin can bring out the best in your eyes.
FOCUS ON THE WHOLE, NOT JUST THE PARTS
Serums that zero in on sensitive eye areas specifically can produce extraordinary results. But don't discount other products designed to uplift the entire face. Take care to strengthening and nourish the entire face, and the skin around your eyes will naturally become more firm.
You can do this by working a toner into your skincare regimen. Look for one that uses stone extracts and peptides to firm. Teamed with a peptide complex, the duo will regenerate, tighten, hydrate, and tone your face.
Restoring your face to its most youthful appearance may not be as easy as snapping your fingers, but it is within reach with a little bit of patience and the right tools. Remember, tiny actions taken repeatedly over time will take you far. Before long you'll have healthy-looking, firm eyes.