Are You Over Scrubbing Your Skin?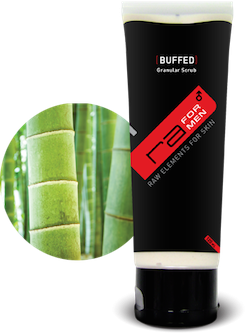 Many of us are familiar with facial scrubs, or physical exfoliators as they are known by some. Sometimes nothing feels better than a good scrub – you just feel like you're doing good work and getting a good cleaning. Scrubs are, however, some of the more misused skin care products…especially among us men.
Why? Simply put, sometimes we just scrub way too hard or use them too often. When we do this we run the risk over stimulating, drying, or causing discoloration in the skin. This can easily be avoided with a few best practices.
BEST SCRUBBING PRACTICES
Clean it up! Always start with a proper cleansing. This goes for any home care routine. The goal is to remove all that debris that can collect on the surface without over-drying or irritating your skin. Once you've mastered this, a scrub can be used to get a little deeper cleaning and to kick start surface exfoliation. Not everyone will need this though.
A few rules of thumb to follow when using a scrub:
Depending on your skin, you might scrub daily or once per week
Start with a cleansed face, use damp hands to massage the scrub into the face and neck for several minutes (this is also great as a pre-shave ritual to loosen beard hair)
Use caution not to over scrub and do not use it around your eyes
Rinse well so you don't have any grit left behind
Use a clean white cloth to remove the scrub so you can visibly see you've removed everything once the cloth rinses clean
Towel dry and brush away any excess granules
Gentle scrubs that use jojoba beads can often be used in place of a shaving cream for extra exfoliation. Don't try this with scrubs with larger grit though.
WHEN TO USE CAUTION
As with anything when it comes to skin, scrubs are not a one-size-fits all. For instance, if you have redness or overactive skin, only use very soft jojoba bead scrubs, and depending on the severity, you might not need a scrub at all. For thicker, acne-prone skin, a scrub combined with a salicylic acid-based cleanser will work well to provide a deep cleanse. Just use caution not to over stimulate the skin by scrubbing too hard and too frequently.
When used correctly scrubs are great additions to the skin care routine. They remove dead skin cells and buildup, and give the skin a refined, buffed finish.
For more about scrubs, see the RA for Men Buffed.