3 Rainforest Ingredients that Work Wonders for the Skin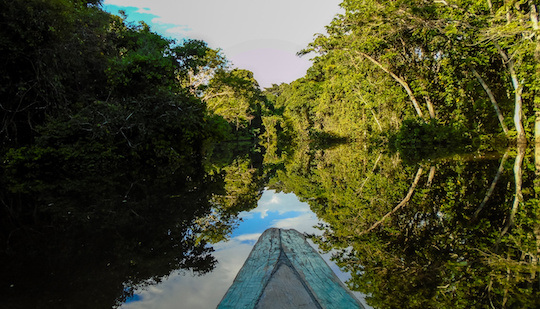 Today when you hear the word Amazon, you're likely to think of the online shopping site and eerily fast delivery. But the more historically relevant Amazon is actually the largest tropical rainforest in the world, spanning across northwestern Brazil and parts of Peru, Columbia, and other South American countries.
This mystical rainforest is home to numerous healing and antioxidant-rich ingredients that have made their way into our diets and even our skincare products. These ingredients stimulate circulation, reduce inflammation, and help clear out toxins.
What are some of these ingredients and how can they be used to improve the health of skin? Read on to find out.
Dragon's blood – perhaps the fiercest sounding ingredient, it's actually a bright red resin obtained from plant species exclusive to the Amazon rainforest. Its proper term is croton lechleri resin extract, but it gets its cool nickname because of its appearance – when the plant is cut, the thick, red resin makes it appear as if the tree is bleeding. It boasts fantastic medicinal properties and natives in the area use it as nature's bandage to seal wounds. When incorporated into skin care, dragon's blood helps reduce irritation, discomfort and swelling, and promotes healing with its antibacterial and anti-fungal properties.
Guarana – known as paullinia cupana seed extract (rolls of the tongue doesn't it?), this "climbing" plant native to the Amazon basin mimics coffee chemically and in the way it works with our skin. It's great for its stimulating, antioxidant, and astringent properties, and the high concentration of caffeine helps rid the skin of toxins. This seed extract has long been used in ancient folk medicine, but in modern-day skin care, it's typically used for its toning and astringent benefits, and to smooth skin and increase blood flow. Tip: This power ingredient is really good for the eye area.
Medicinal plants – there are a couple of plants that while not exclusive to the Amazon, can be found there. These include eucalyptus and melaleuca alternifolia (tea tree). Eucalyptus and tea tree oil have strong antibacterial, anti-inflammatory, and antiseptic properties, making them superb ingredients for acne skin. These can typically be found in cleansing products like cleansing pads, as well as toners.
Next time you're thinking about refreshing your skincare routine, look to the natural wonders of the rainforest to infuse some potent, life-giving ingredients into your regimen.